Born in Lawrenceville, Georgia, in 1921, Ezzard Charles grew up to become a heavyweight boxing champion. Charles moved to Cincinnati, Ohio, to live with his grandmother and great-grandmother at the age of 9. There he boxed successfully as an amateur in both the welterweight and middleweight divisions. His professional career began in 1940, two years before he graduated from high school.
Many of Ezzard Charles's first 38 professional matches were won by knockouts. In 1944-45, his boxing career took a back seat as he served in the military. When he returned from the service, he boxed in the light heavyweight division.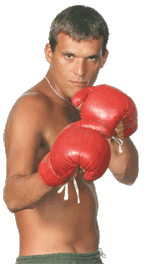 Charles never weighed more than 200 pounds (91 kg). He fought many famous middleweight and light heavyweights, including Archie Moore, Ken Overlin, Charley Burley, Joey Maxim and Teddy Yarosz. In 1948, Charles knocked out Sam Baroudi in the tenth round of a match. Baroudi later died of injuries sustained in the match. Many believe that Charles became more cautious after that battle.
Nicknamed the "Cincinnati Cobra," his ascent to the heavyweight championship began with his win in a 15-round match against Jersey Joe Walcott in 1949. Ezzard Charles defeated Walcott to win the National Boxing Association Championship. In 1950 Charles defeated Joe Louis to win the world heavyweight championship, which he held until 1951 when Walcott defeated Charles in a re-match.
Ezzard Charles's most memorable bouts include two with Rocky Marciano, both occurring in 1954. In the first battle, Charles lost a fifteen round match by points. In the re-match, Marciano was declared the winner even though the match was almost ended in the 8th round due to Marciano's split nose. This particular match was named "Fight of the Year."
Considered one of the top boxers of the 1940s and 50s, Ezzard Charles won 96 of 122 bouts. He won 59 of those matches by knockout. Charles was diagnosed with amyotrophic lateral sclerosis, also known as Lou Gehrig's disease, in 1966. He died in 1975 in Chicago.
Cincinnati recognized Ezzard Charles by renaming the street on which he lived when he won the world heavyweight title after him. Charles was inducted into the International Boxing Hall of Fame in 1990. He is recognized in many historical texts as an influential person, including 100 who made a Difference: Greater Cincinnatians Who Made a Mark on the 20th Century and Profiles in Black History.
AS FEATURED ON:
AS FEATURED ON:






Man boxing