Grandma Moses was born Anna Mary Robertson on 7 September, 1860 in Greenwich, New York. She is a world renowned American folk artist. Grandma Moses is unique not only for her artistic talent, but also for the fact that she became a famous artist after just beginning to paint in her seventies.
The first painting Grandma Moses ever did was when she was 76 years old. She had hand-embroidered pictures with yarn for many years, but when arthritis crippled her hands she could no longer manage an embroidery needle. Since a paintbrush was easier to hold, Grandma Moses began painting instead. Her work depicted her memories of farm life and she entered her paintings at the local fairs along with her homemade preserves. Although her jams won ribbons, her paintings did not.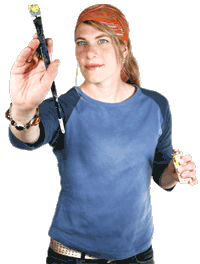 Even so, Grandma Moses sold her paintings for up to $10 US Dollars (USD) each at the local drugstore in Hoosick Falls, New York. One day, an art collector and engineer, Louis Caldor, happened to be passing through Hoosick Falls. Caldor bought all of Grandma Moses' paintings at the drugstore as well as whatever she had finished at her home. Her work was displayed at the New York Museum of Modern Art (MOMA)as well as various art shows.
Most of Grandma Moses' pictures are of happy country settings. Peaceful landscapes and farm work such as haying and candle making are featured in most of her works. Grandma Moses' style is known as the primitive or naive style of art. In this style, the mood is always pleasant with figures shown smiling as they work. Some of her most famous paintings include Over the River to Grandma's House, Catching the Turkey and The Old Oaken Bucket.
Anna Mary Robertson not only grew up on a farm, but from age 12 to 27 was a hired girl that worked on other farms. She got married to Thomas Moses when she was 27 and became a farmer's wife. The couple had 10 children, but five died in early childhood. Unlike many painters, Grandma Moses never used an easel or had a studio. She worked on an old table in a room off her kitchen that housed a washing machine.
By 1939, Grandma Moses' paintings were selling well in North America and Europe. In 1946, some of her scenes were reproduced on Christmas cards. She won the Women's National Press Club Award in 1949 for her accomplishments as a painter. Her works no longer sold for $10 USD, but more like $10,000 USD. New York Governor, Nelson Rockefeller, declared Grandma Moses' 100th birthday on 7 September, 1960 as Grandma Moses Day.
Grandma Moses created over 1,000 paintings in her life. Before she turned 101 in 1961 she was still known to paint almost every day. At least 25 of her paintings were done after she turned 100. Grandma Moses died at 101 years of age on 13 December, 1961 at the Hoosick Falls Health Center in Hoosick Falls, New York.
AS FEATURED ON:
AS FEATURED ON:






Woman painting