Jonathan Larson was an American playwright and composer, best known for his musical Rent. He was born in New York in 1960, and died in 1996 at the age of 36. He was awarded a Pulitzer Prize and four Tony Awards after his death, all for Rent.
Jonathan Larson was involved in both music and theatre from an early age, playing a number of instruments and appearing in his school theatre throughout high-school. He attended college to study acting, and at that time started to compose small pieces. While in college he also came into contact with Stephen Sondheim, who would look over his pieces and help him with recommendations. After college, Jonathan Larson moved into a small loft in Lower Manhattan, living in relative squalor with a number of other artistically inclined people, giving a great deal of inspiration for what would eventually become Rent.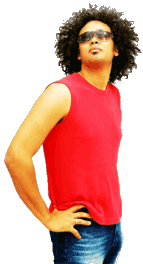 In his early career, Larson created a number of unsuccessful shows, including Sacimmoralinority, which was eventually renamed Saved! — An Immoral Musical on the Moral Majority, and Superbia, based on Orwell's Nineteen Eighty-Four. His final piece before Rent was eventually given the title tick, tick… BOOM!, and although not a great success, it was fully produced in 1991 at the Village Gate, giving Jonathan Larson some degree of exposure.
A few years before, in the late 1980s, Jonathan Larson had been put in touch with a fellow playwright, Billy Aronson, who was working on an adaptation of La Bohéme. They worked on and off on it, and eventually Jonathan Larson asked Aronson if he could work on the project himself, as he wished to bring a great deal of his own life into it, turning it into a more auto-biographical piece. The two reached an accord, and Larson threw himself into the work.
In creating Rent, Jonathan Larson set out for himself a monumental undertaking. He wished to make theatre accessible and relevant to both the children of Generation X and the MTV Generation, bringing them back to Broadway and giving them an alternative to television and movies. Although he never lived to see how successful he was, Rent is generally credited with an swell in younger audiences throughout Broadway.
Rent was first staged as a reading in 1993, and played a short run a year afterward. For the next two years, Jonathan Larson worked the play over, collaborating with his director to bring it to completion. In 1996, before the show opened for a major run, Jonathan Larson died of an aortic aneurysm. The next night, Rent opened Off-Broadway to its first public audience. From the first night Rent was an enormous success, playing to sold-out houses every night, having its run extended time and time again, and eventually being moved to Broadway.
Jonathan Larson was awarded a Pulitzer Prize for Rent after his death, one of only seven musicals to be given the honor. He was also given posthumous Tony Awards for Best Original Score, Best Book, and Best Musical, as well as a number of other awards, including Drama Desks, Outer Critics Circle Awards, and Obie Awards.
AS FEATURED ON:
AS FEATURED ON:






Man with hands on his hips