Manu Chao, born José-Manuel Thomas Arthur Chao, is a very well known musical artist. Manu Chao was born in Paris, France on 21 June 1961 to parents of Spanish descent. In addition to singing and playing guitar, Manu Chao is also a record producer, and most of the music he makes is considered to fit within the world music and reggae genres. Some also consider his music to feature aspects of punk, due to the strong political and social content of his lyrics. His songs are likely to contain lyrics that are decidedly left-wing, that criticize social issues such as immigration and globalization. For this reason, Manu Chao is considered by many to be as much a political activist as a musical artist.
Manu Chao sings in a number of languages, often within the same song. He sings in his native language French, as well as in English, Spanish, Portuguese, and Arabic. Manu Chao can also sing in two lesser -spoken languages, Galician and Wolof. His musical influences include rock, salsa, reggae, ska, the lyrical French style chanson, and Algerian folk music.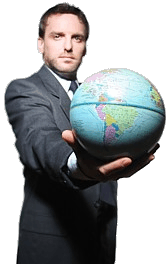 Manu Chao has been part of a number of music bands. Perhaps the first of these was a punk and rockabilly group called Hot Pants that Manu Chao formed along with a few other musicians in the 1980's. While continuing to play with Hot Pants, Manu Chao formed a second band called Los Carayos with his brother, Antoine, and a few friends. The music of Los Carayos incorporated punk and rockabilly sounds with alternative music, which was quickly gaining popularity in Paris the late 1980's.
In 1987, Manu and Antoine joined up with a cousin of theirs to form Mano Negra, one of Manu Chao's more widely known collaborations. Mano Negra became highly popular throughout Europe and South America, and despite a small English-speaking fan base, was signed by Virgin Records. In 1994, the band moved to Madrid, Spain, and soon after, disbanded.
Despite the official disbanding of Mano Negra, a number of its members joined Manu Chao in the formation of a new band, Radio Bemba Sound System. It is said that the style Radio Bemba aimed for was a replica of the street and night-scene music that the members of the band encountered while traveling through Central America and South America. It was during his time with Radio Bemba that Manu Chao began to sing mostly in Spanish. Radio Bemba songs were well received, but in 2004, Manu Chao returned to French-language lyrics and a more French-influenced sound.
Following his time with the aforementioned bands, Manu Chao began to perform most often under his own name. He also takes part in additional musical collaborations, including producing the albums of other artists, writing songs for movies, and even collaborating on entire soundtracks for films. In the 21st century Manu Chao's music has grown in popularity in English-speaking countries. He has performed at a number of concerts in The United States, including Lollapalooza in 2006, and the Coachella Valley Music and Arts Festival in 2007.
AS FEATURED ON:
AS FEATURED ON:






Man holding a globe